Globus endpoint administrators can authorize Globus users with accounts on the endpoint server to create guest collections on the endpoint. A guest collection enables Globus users who do not have accounts on the endpoint server to access data in the collection, as defined by access control rules (ACLs). (See the Globus Connect Server v5.2 Install Guide for more details.)
If you've been authorized by an endpoint administrator to create guest collections, you'll do so using a storage gateway on the endpoint. First find the endpoint in the Endpoints section of the Globus web app. Search for the endpoint name or for any keywords associated with the endpoint or its storage gateways.

Once you've found the correct endpoint, click the 'Shares' tab, then click 'Add a Shared Endpoint.' You'll see a list of the storage gateways on the endpoint. (Each storage gateway has a different set of policies for creating and accessing collections.) Click the storage gateway you've been authorized to use.

If this is the first time you've created a collection using this storage gateway, you'll be prompted to select the Globus identity you wish to associate with this collection as well as the local account on the server that this collection should be associated with. Since this is a high-assurance storage gateway, you must use a Globus identity from the identity provider required by the storage gateway (configured by the endpoint administrator).
Next, you'll see a form in which you must specify the properties of the new collection, such as its Display Name, Description, etc.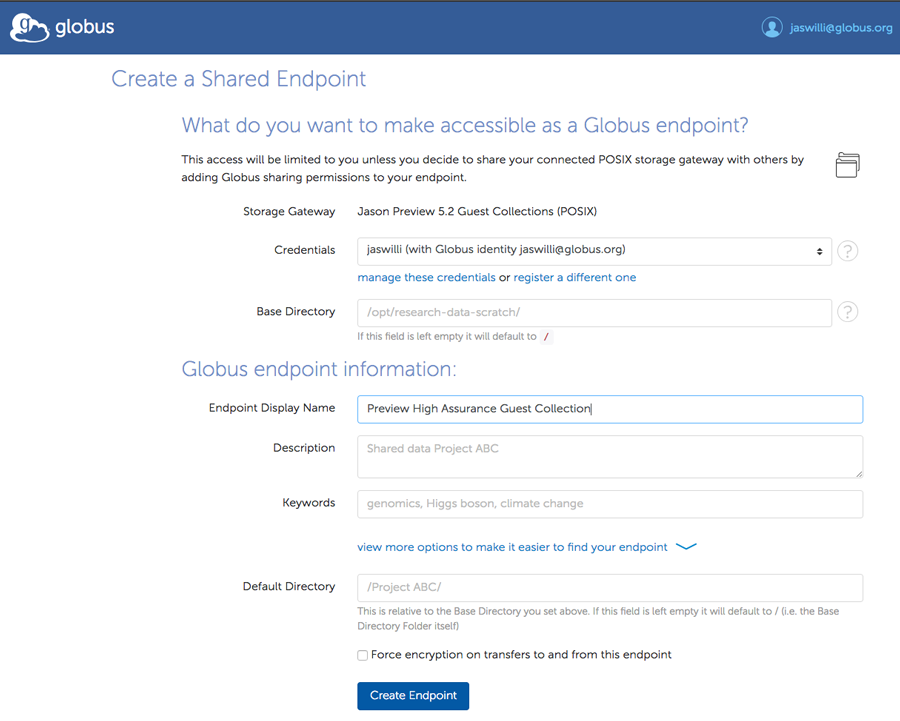 After filling out the form, click 'Create Endpoint' to create the new collection. You should now be able to find and use the new collection, including setting ACLs that enable other Globus users or Globus groups to access your collection.
---